Hopefully I'll be doing this again come 12/31/09. Enjoy my last post of the year.
1,000,000

>>> With the economy as fucked up as it is, and free downloads showing no sign of slowing down, I still can't believe Wayne went platinum in his first week. I'll show respect where respect is due.

30,000 >>> How many additional troops are needed for the U.
S. military to "safely handle it's commitments globally". This can mean one of two things: Americ
ans are unpatriotic cowards, or the American goverment has grossly overstepped it's war-mongeri
ng bounds. Oooh, oooh! Pick me teacher, I know!



500

+

>>> Murders in Chicago this year. I've already voiced my opinion on th
e matter, but whenever the homicide rate goes up (as in more dead people, Kin
g
Richard) something is very wrong. And don't tell me anything about variability and statistics either. I
f
orget who said this, but they were 100% right: "There's lies, damn lies, and then there's statistics."



8

>>> As in Proposition 8. Shame on California for passing this bigotry masq
uerading as law. First time I caught wind of this I thought Anita Bryant had be
en resurre
cted. Sorry, Anita ain't dead yet. Shame on Ahhnold for giving this the light of day. Most of all, sham
e on Bar
ack. This was the second biggest story of Election Night and he caved under the pressu
re from
the moderate and right-leaning votes he was trying to win. A campaign run for cha
nge, unity, acceptance, and all that Walt Disney fairy tale talk came up short when the opportunity to walk the walk presented itself.

1

>>> As in the 1st half black President. I just gave B-Rock a lashing but
it was out of love (in the true spirit of 2008, I'll add a no homo). In a country where black and brown
people had 0 rights until about 1964 and, in some situations, still can't live where they c
hoose, marry who they choose, a man of color will soon hold executive office. Go see

Milk

if you haven't al
ready, it's a great film. That sounds off topic, but the movie and the Obama camp
aig
n are e
erily similar minus the gay sex, at least to the extent of my knowledge. I just hope they
don't have similar endings.
The 2-2-5

>>> Probably the place I've had the most fun in in 2008. I could type for days about it so I'll just leave it at this: If you've been there, you know.



The Cell

>>> I went to 9 games this year. It was a down year. But I was lucky enough to be at the Black Out Game, the one-game playoff that the Good Guys won 1-0. I still hav
e the black towel in my room. Kellyn, you're the man. Double Duty too.
Bacci's

>>> Nothing new to me, but the looks on the East and West Coast kids' ('
Toine too) faces when they get that giant $5 slice and pop is priceless. From off-ca
mp
us lunch in high school to post-Lupe 28 inchers, many a good memory came at the North & Clybourn location this year.



Grant Park

>>> Being there on Election Night was probably the mo
st surreal night of my life. Though I doubt it was as emotional, I have a semblance of an understanding now when old people talk about MLK's March on Washington. Jumping and celebrating with total strangers and seeing people brought to tears was about
as dreamlike as it gets for me. I finally got one of those "back in the day" stories to tell my kids.



The Internet

>>> This blog as evidence, the Internet was huge for me in '08. Y
outube and Facebook aside, I bought probably around $1000 worth of clothes and sneakers online, watched free movies to my hearts content, and downloaded enough free music for a c
ouple weeks lifetime.
"I.O.Fs (Incidents of Fuckery)"
Yung Berg
It's so cold in the D.

Plaxico Burress
They'll be calling him Rambo at Rikers while he gets....uh....initiated.



The Palins
Proof that fuckery is genetic. I'm not extrapolating to the Down Syndrome baby though. I wouldn't go there.



Blago
My President is black, My Lambo is criminal. And I'll be goddamned if my Governor ain't too.



This Guy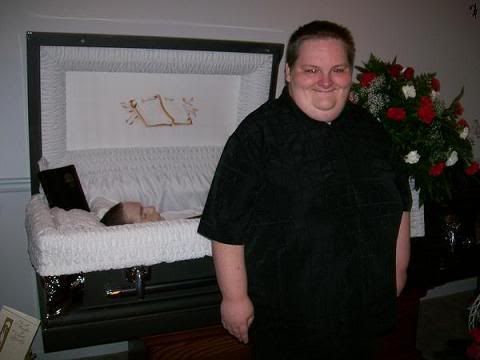 He's not famous or anything, but this picture gets me every time. Somebody must be getting a fat life insurance payoff after the funeral.



Commitment
>>> If you know me, you know that I haven't had an acknowledged girlfriend since like summer '05. Thank God it hasn't been for lack of options, that would've been a long 3 years. Actually, if you know me you may not know that. Anyways, I think I'm due for a relationship this year. I don't know why, who, or when, but what the hell
.
Lets give it a shot.
Food
>>> It's hard to eat well in college. The stir-fry line is always long and it's easier sweet-talking the lady at the grill than it is the African cat asking you "Teriyaki or Sweet & Sour". But I'm going to try. The 2 am pizzas have to stop too, or at least happen less often. Easier said than done though I know. I'm usually not myself when ordering that large pepperoni and green peppers from
Domino's.
30,000
>>> As in page views. Thanks to all you readers out there for helping push the counter to 12,ooo in just 5 months. I really appreciate every single one of you who take the time to read, let alone care, about what I have to say. This time next year I'd like to be up around 30k views. Some comments would be nice too, even if you just say "I never comment b/c
you bore me to death
". Knowing what you all think only helps motivate me.
Internship
>>> It's pretty hard to get an internship as a rising sophomore, especially in journalism. But I'm gonna try my ass off to get one for the summer. And yes, I'm going to shamelessly abuse my Wilbon connect until it comes through for me.
Maintain
>>> Grades were never a problem for me. Wasn't a straight-A type, but I did enough to keep my parents out of my business. Well, as of today, my GPA is an unimpressive 2.8. Now more than ever before I'm convinced of how unimportant grades are in the grand scheme of things, but my grades are about
$25,000 worth of important
.
A year
. So I gotta get my shit together. Hopefully this time next year, I'll still have my scholarship.
Love every single one of you guys. Have a happy and safe New Year's Eve.....................haha how awkward would it be if nobody reads this..........Two fingers! I'm out.